Kenya is the home of running. It's also a popular venue for runners who want to perfect their marathon-running skills. This requires a visit one of the high-altitude running camps of north-west Kenya. In this blog, we take a sprint around the High Altitude Training Centre in Iten, a popular Kenya running camp.
Welcome to Iten, Home of Champions
It's a long, grinding, pull up to Iten, the running capital of Kenya. A superbly panoramic road, smooth as silk, zigzags up the side of the Rift Valley; to a heaven-bound eight thousand feet above sea level. The views are long, hazy-blue and primeval, the air effervescent. You may see another car on the road; you may grapple solely with goats. This is the roof of the world; and you've got to want to climb there.
Iten itself is a compact, cheery outpost, much like any other town in Western Kenya. Except for one thing: it is 'runners town' and home to an impossible number of world-class athletes. Of its 2,500 inhabitants at least one third are Olympic runners; around its simple 400 m all-weather running track pound the global elite of short, long, and middle-distance running. And along its muddy rust-red tracks everyone, but everyone, RUNS.
The High Altitude Training Centre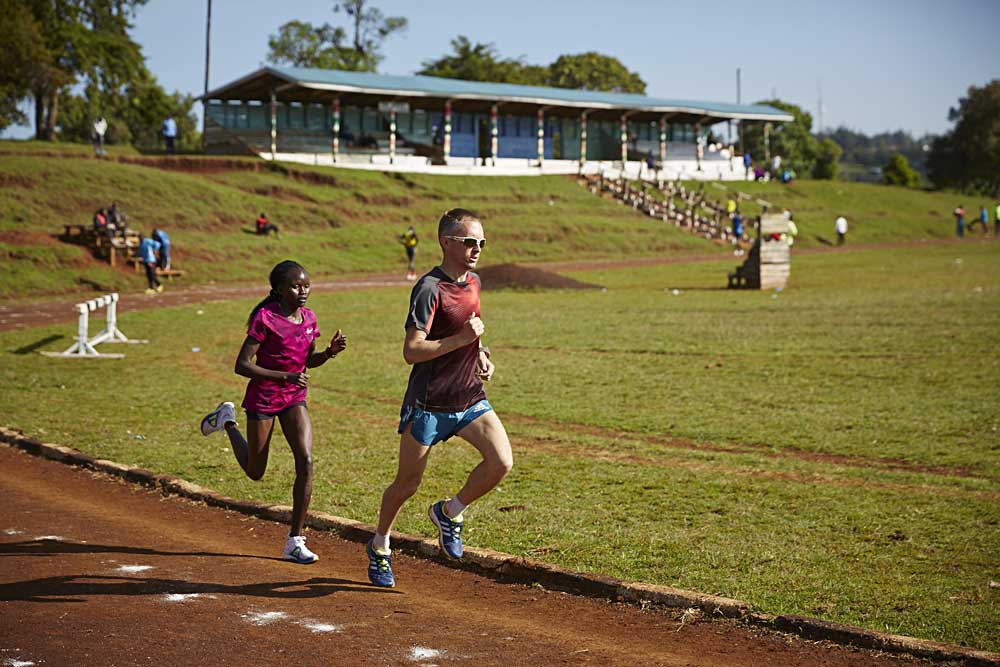 On the outskirts of town, a sign reads 'High Altitude Training Centre, University of Champions', and a rough road leads between high hedges. Cows bumble and browse. At the end of the lane is a gate; beyond it an extraordinarily high-tech gymnasium, a grassy lawn dotted with sun-beds, and a low stone building which houses a central dining room, recreation area and kitchen. There is even a heated swimming pool, sauna and a Physiotherapy and Injury Clinic. There's a double row of simple rooms; outside each of them is a jumble of red-muddied running shoes.
Lornah's dream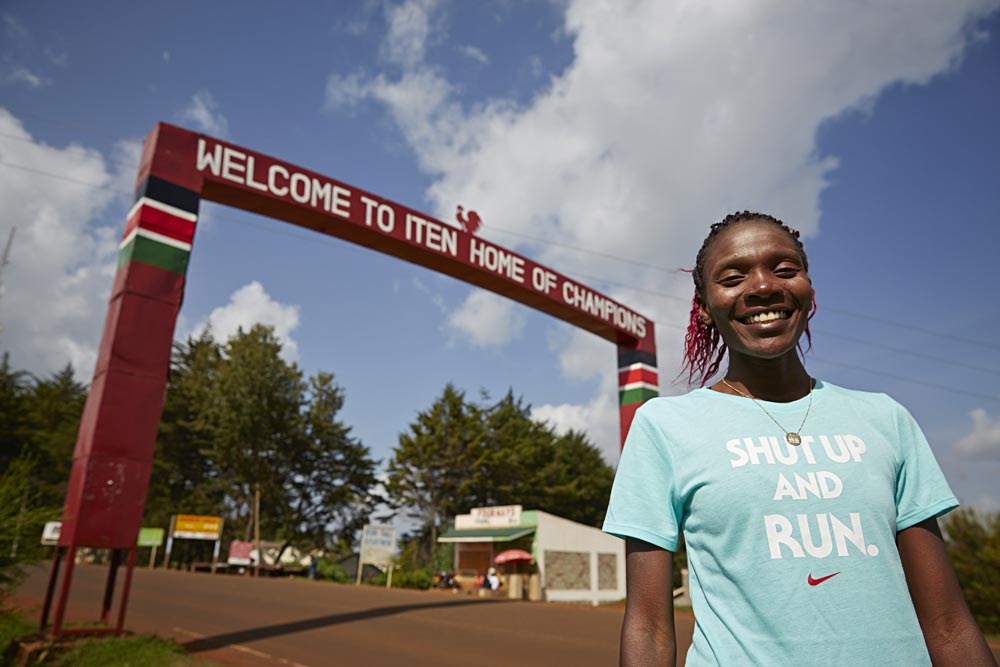 The HATC, opened in 2000, is the brainchild of 'elite' athlete, Lornah Kiplagat. Lornah is a four times World Champion and has held World records over 5 Km, 10 Mile, 20 Km and Half Marathon and competed for the Netherlands in the Athens (2004), Beijing (2008), and London (2012) Olympics. She also won the World Championships Cross Country in Mombasa in 2007. This is a lady who lives to run, and runs to live.
To the running cognoscenti, Iten is Mecca. It's high, beautiful, surrounded by hundreds of kilometers of rural running tracks; and you get to run with the best in the world. The Centre, meanwhile, offers simple accommodation, professional guidance, world-class trainers, and a high-octane diet: training fuel. On each bedroom door is a sign, 'alcohol and cigarettes are not permitted in the camp'. At dawn the doors burst open, and the runners stream out. They train from 7-11am and from 4-6pm; some on the track; some on the rural roads.
Dining is communal and timed to promote optimum performance. The food is locally sourced; simple and nutritious; high on vegetables and carbohydrates, low on protein. Dinner is at 7.30pm. Bed is early. The talk is of hamstrings, marathons, recovery times, heart rates, and under-hydration versus over-hydration. In the running game: training, fuel, water and sleep are all that matters.
And the really odd thing is … that everyone seems to be having an excellent time. It's all laughter and light in the boot camp.
HATC Kenya running camp – Find out more
The High Altitude Training Centre offers packages based on full-board accommodation. Costs vary depending on the length of your stay and the number of people in your group. There are over 70 beds and over 1,000 miles of trails!

To find out more, visit: https://hatc-iten.com