American actress Kristin Davis is perhaps best-known for her role as Charlotte York Goldenblatt in the American TV series Sex and the City for which she received a 2004 Emmy Award nomination. She also starred in the films Sex and the City 2008 and 2010.
A Global Ambassador for Oxfam, Kristin is also a 'High Profile Supporter' for the United Nations High Commissioner for Refugees. She is also the 2010 winner of the Wyler Award, and a patron of the Sheldrick Wildlife Trust. In this interview, Kristin tells us about her passion for conservation and why she loves Kenya.
Hi Kristin. When did you first visit Kenya? And what prompted the visit?
My first safari was in 2001. I'd always wanted to visit Kenya and, since all of my friends were busy working, I decided to just go alone. I spent time in the Chyulu Hills at 'Campi Ya Kanzi' where the view of Mount Kilimanjaro was magical: and where being able to go hiking in the cloud forests made me fall immediately in love with Kenya.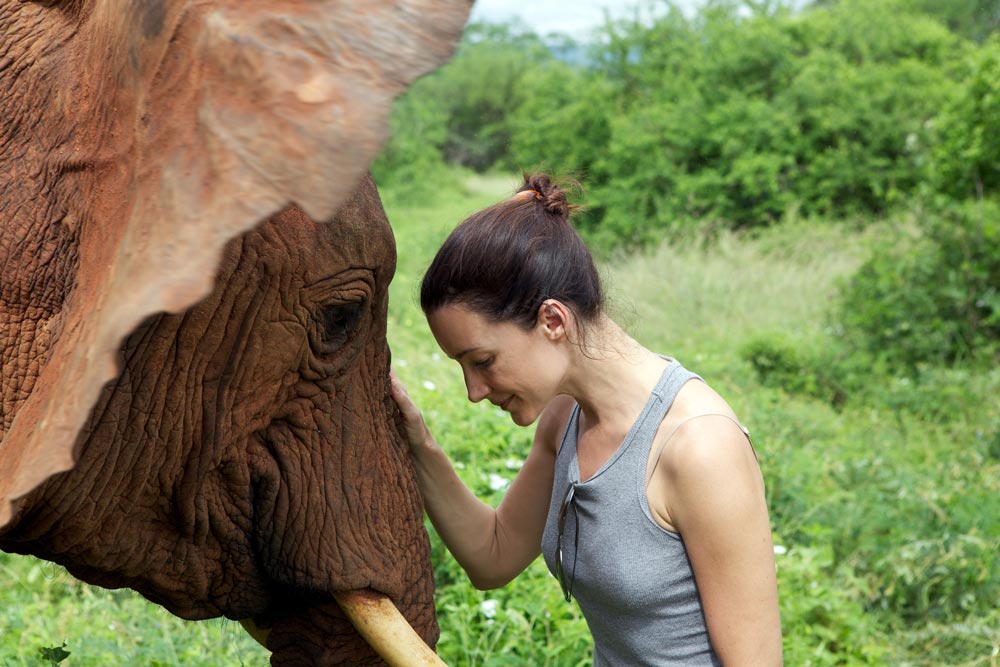 ---
You're a dedicated animal-lover with a special love of elephants. How did that come about?
I think my love of elephants began when I watched National Geographic specials as a child. I love the elephants' social structure, their fascinating behaviour; and the contrast between their immense size and power and their incredible gentleness and goofiness.
Tell us why, in 2009, you started working with the Sheldrick Wildlife Trust (SWT)?
I was at 'Campi Ya Kanzi', working with their conservation arm, The Maasai Wilderness Trust, when a Maasai elder told us that a baby elephant had been seen alone at dusk for two consecutive nights. Baby elephants can't survive for any length of time without their mother's milk so we knew something was seriously wrong. We called SWT for advice and support and then began a frantic hunt. It took us a day and a night to find her – she'd wandered deep into a lava flow – but with the help of the SWT team we rescued her. It was then that I realized that I needed to help raise awareness and funds for all the wonderful work done by SWT.
I was later honoured to be asked by Dame Daphne Sheldrick be a patron of the Trust. An honour I take very seriously indeed; and one that has prompted a lifetime's commitment to ensuring that Daphne's vision – of generations of elephants living freely and safely in the wild – becomes a reality.
What prompted you to make the 2015 'Gardeners of Eden' documentary?
I wanted to share the beauty of the elephants so that the viewers might fall in love with them as I have done but my primary goal was to highlight the magnitude of the work of the Sheldrick Wildlife Trust. Initially, I and my team made a short film called 'WILD' about the work of the Trust. Later, I was able to fund and produce the full-length documentary, 'Gardeners of Eden' in which we follow the anti-poaching teams and the veterinary teams who travel all over Kenya and treat any wild animal that has been injured. We also visit the Nairobi National Park SWT where the baby orphaned elephants are raised, as well as their rehabilitation centres in Tsavo.
Do you have a favourite place in Kenya?
It's very hard to choose a favourite. I love the Chyulu Hills and Lamu – but my favourite place would have to be Tsavo National Park, because of its vastness and intense beauty.
What, for you, is the essence of what makes Kenya so lovable?
The wildlife is stunning, but the sheer diversity of the landscapes was unexpected. I've visited around 15 times and there's still so much of the country I haven't seen. I was also very impressed with the openness of the Kenyan people; and their warmth towards visitors.
---
For more information on the Sheldrick Wildlife Trust, visit: www.sheldrickwildlifetrust.org

Visit Kristin Davis on Facebook.