In the central-northern part of Kenya there is a group of very special national parks. They're so close together so you can explore then all on one trip. In this blog we explore Buffalo Springs, the sister park to Samburu National Reserve and Shaba National Reserve.
The natural swimming pool
The sign reads 'natural swimming pool' and points into the middle of the wilderness. We're in Buffalo Springs National Reserve, one of the triad of northern reserves that also includes Shaba and Samburu. Swimming pools, natural or otherwise, seem unlikely in this searing-hot desert region. We're surrounded by groves of doum palm, droves of Beisa oryx, drifts of reticulated giraffe and a coronet of purple-tinged mountains, one of which is Ololokwe, the sacred mountain of the Samburu people.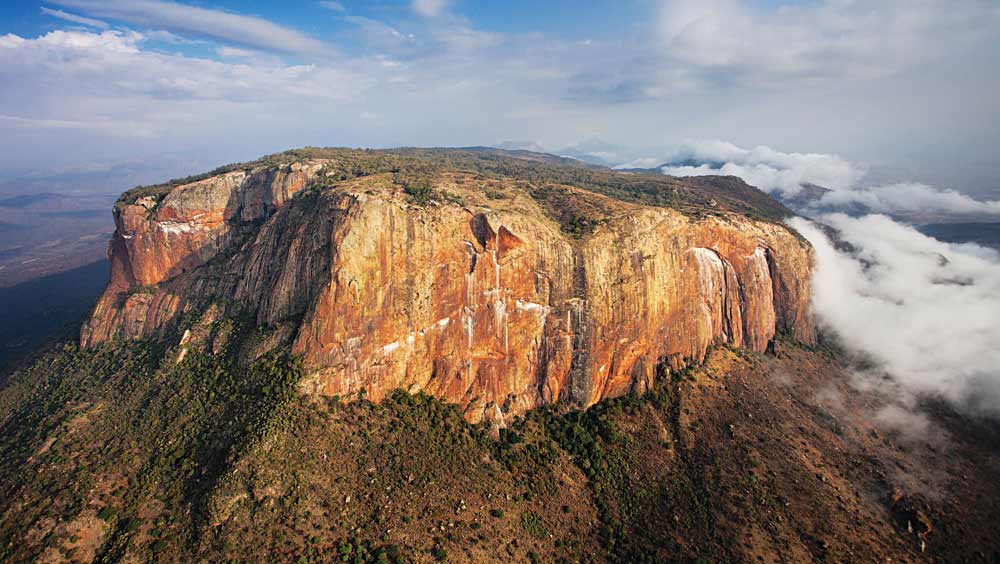 The heat shimmers. But, as the old British military adage has it, 'time spent on reconnaissance is never wasted' so we set off for the mythical swimming pool. We don't have far to go.
There's a wide swathe of marshland, emerald green and sparkling: it's one of the many 'springs' in which this small (131sq kms) but beautiful land abounds. Beyond the spring there's a rough circular stonewall about waist height. Behind the wall lies a deep pool. The water is diamond-clear and shines with an otherworldly amethyst blue. A toe in the water reveals it to be bathwater in temperature. The temptation to jump in is overwhelming.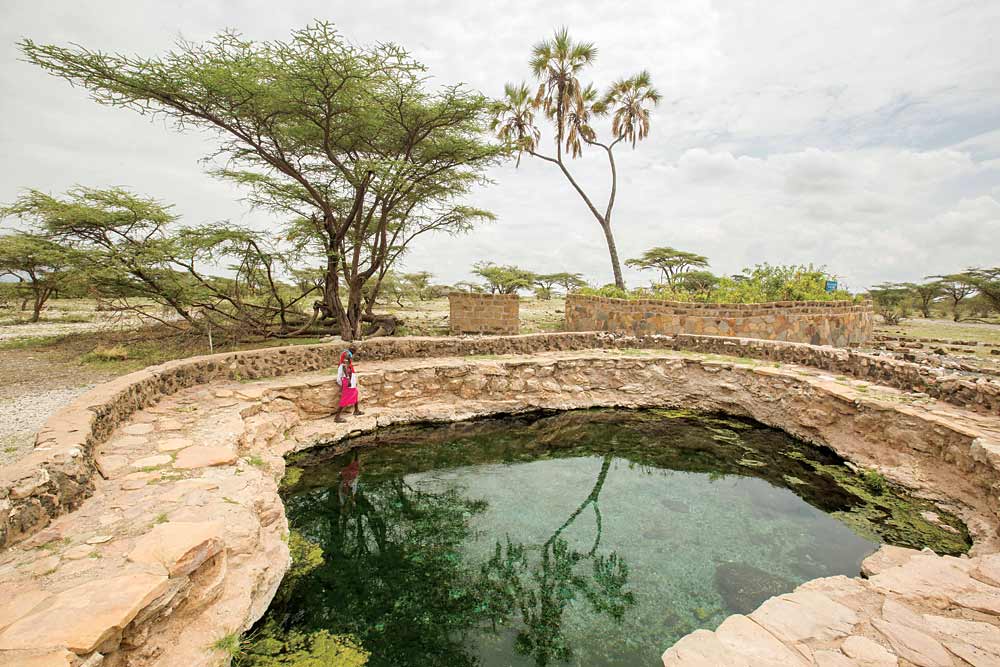 A bomb site
'It's a bomb site,' says our guide. We gape. 'From World War II,' he continues. 'It was 1940 and a squadron of Italian fighter planes were flying back to Ethiopia. They looked down and saw a huge herd of buffalo drinking from this spring. They mistook the buffalo for the tents of the British, who were advancing towards the Ethiopian border, so they dropped a bomb on them'. He regards the huge rocky basin with placid unconcern, 'and this is what's left,' he finishes.
It's a strange story, but research reveals it to be true. In one of the least-known encounters of the Second World War, Italian Dictator, Benito Mussolini, had declared war on Britain and was attempting to seize what was then British Kenya and Tanganyika for an Italian empire that he declared would be even larger than the Roman Empire. He had 93,000 troops, 232 aircraft and 200 armoured vehicles and tanks. The British had 19,000 troops, six vintage aircraft, with only one serviceable carburettor between them, a couple of homemade armoured cars and no artillery. Surprisingly, the British won. The buffalos, unfortunately, were collateral damage.
Reticulated giraffe and a Beisa oryx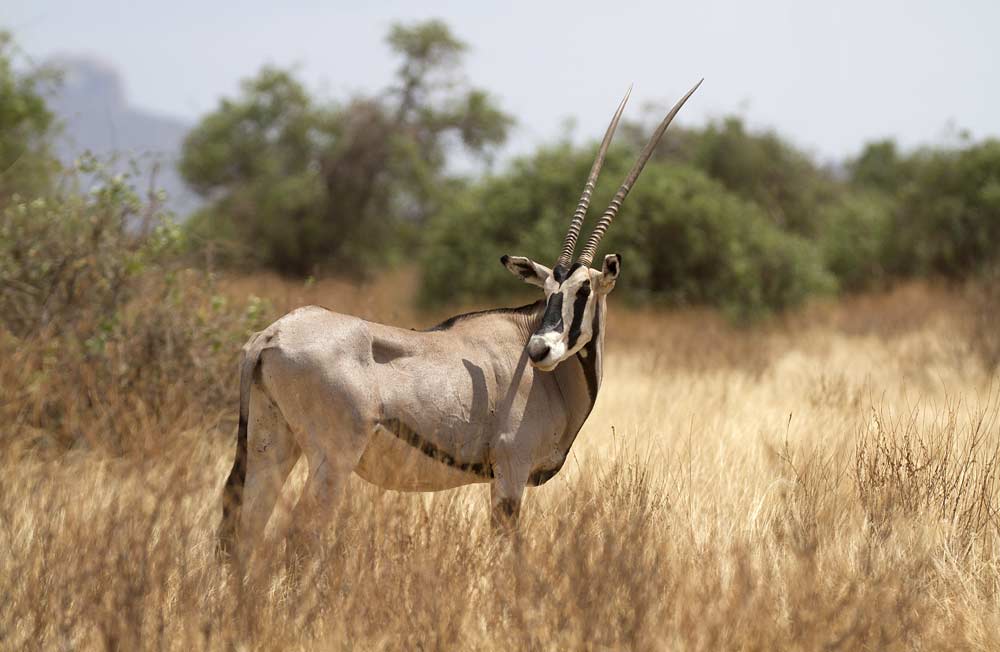 Back at the pool, peace reigns. Three reticulated giraffe stroll past and look us over questioningly. A pair of Canada geese flies in honking loudly and potter in the swamp. A lone Beisa oryx grazes in the near distance, and a train of warthogs trots past with their tails baton-stiff. It's a gorgeously surreal spot but it's entirely devoid of shade, so we move on. We're in search of lions.
And we don't have far to go to find them either: this park, though small, is seemingly bursting with confrontations. Rounding a corner, we come across a dense clump of bushes. A half-chewed hoof is sticking out of it. Behind the carcass, which appears to have been dragged headlong into the undergrowth, gleams a pair of bright eyes.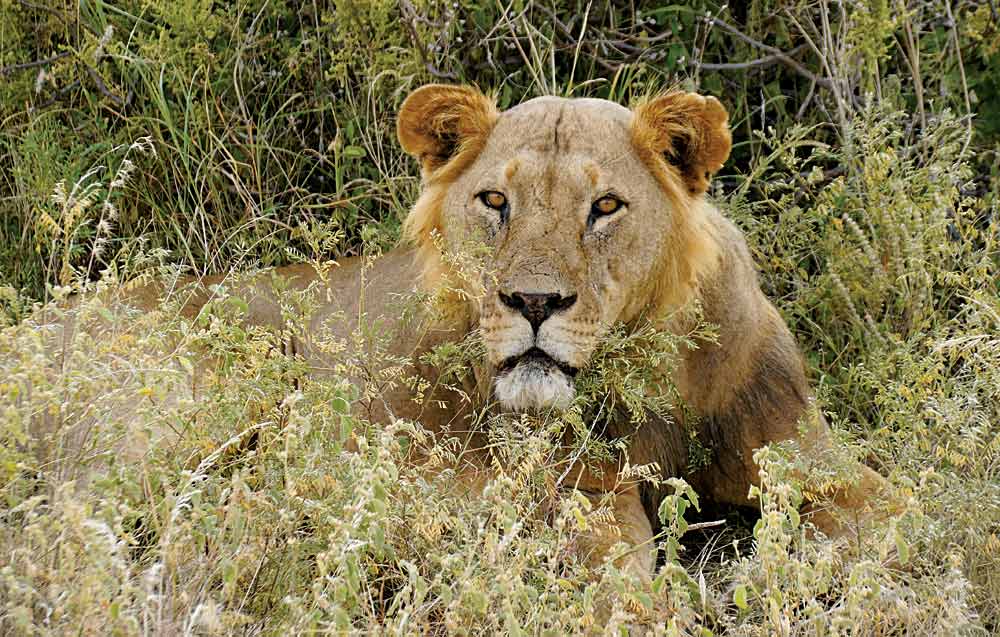 We circle the bush to arrive in a much-trampled arena scattered with standing tufts of tall gold grass. In a bushy den lies a pair of young lions. They're mane-less, as are all lions in this arid region, and their ears are pricked enquiringly. But they make no attempt to move. 'There's another one behind us,' says our guide. We spin around. Slumped beneath another clump of scrub lies the third young lion. He's clearly very hot; he's panting and his ribs heave. The sun catches his eyes; they're cold and merciless. 'This is their hunting ground,' says the guide, 'it's a place of ambush'. He's right. The dusty killing ground is littered with bones and tatters of hide. Clearly the peace of Buffalo Springs is as deceptive now as it was in 1940.
Off the beaten tourist track
And that's another thing. Though we spend two hours exploring this enchanting landscape, and although we come across troops of wandering elephants, platoons of Somali ostrich and battalions of the rare and endangered Grevy's zebra, we don't see another vehicle. And yet, not far away, a stream of vehicles thunders along the great strip of black tarmac that heads north through the Chalbi Desert to Lake Turkana and, ultimately, the Ethiopian border.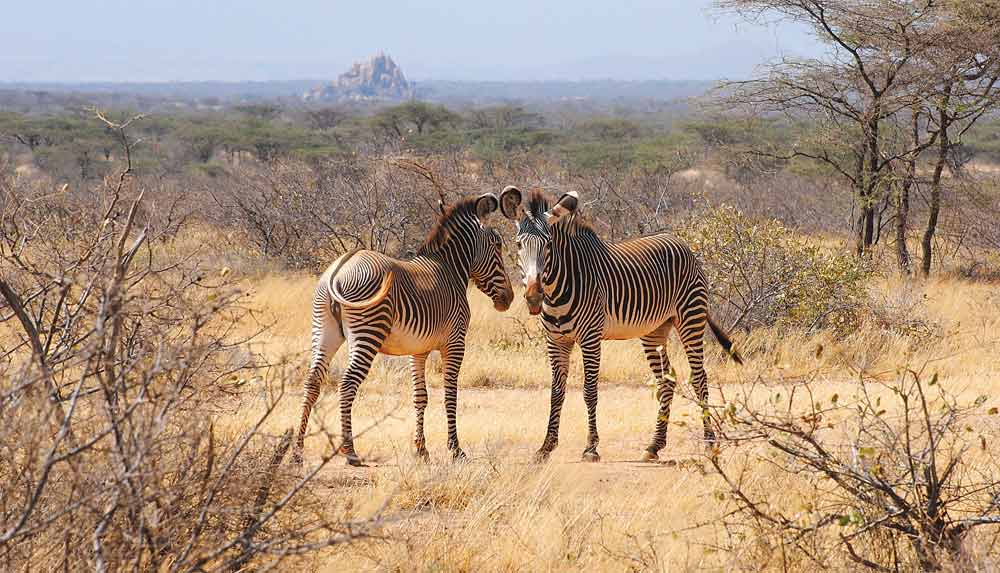 It is said that, as his high-vaunting ambitions crumbled before his eyes, Mussolini declared, 'I am not a collector of deserts'. Which is perhaps just as well because in April 1941 Addis Ababa fell to the British in a campaign the British War Office described as 'not so much a war as a well organized miracle'.
The buffalos of Buffalo Springs might have begged to differ.
---
How to get there
The trio of northern reserves, Samburu, Shaba and Buffalo Springs lie around 340 kms north of Nairobi and are best reached by air. Safarilink offers a number of flights.
What you'll see
Healthy numbers of predators including lion, leopard and cheetah, spotted and striped hyenas, bat-eared fox and hunting dog. Also to be seen: elephant, buffalo, hippo, Burchell's and Grevy's zebra, reticulated giraffe, kudu, Beisa oryx, gerenuk, Kirk's and Gunther's dik-dik and Bright's gazelle. There are some 400 bird species including 47 birds of prey, Somali ostrich, vulturine guinea fowl, Verreaux's eagle-owl, sand-grouse and hornbill.
Where to stay
There are a number of lodges and camps ranging from simple self-catering campsites to five-star lodges. We stayed at Sarova Shaba Game Lodge, which is dramatically located amid natural springs and on the banks of the Ewaso Nyiro River with almost immediate access to all three reserves.